Snooper Lynx GT LIVE Review, User Reviews and Comparison
Snooper Lynx GT LIVE is a leading speed camera detector which provides advanced alerts to speed camera locations across the UK. Find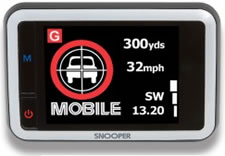 out the Lynx GT LIVE's features, how it works, which speed cameras it detects. Plus read reviews, share your ownreviews and read comparisons with other best buy speed camera locators.
---
Review: Snooper Lynx GT LIVE
Product type: Speed Camera Detector
Detection range: 200-1000metres
Technology: GPS and GPRS
Installation: Dash or windscreen mounting
Cost: £180
---
The Snooper Lynx GT LIVE and a range of leading UK speed camera detectors are available to buy right here from Speed Cameras UK.
The Snooper Lynx GT Live is in stock today and ready for despatch to save you points and fines hitting your licence and pocket.
The Lynx GT Live is priced at £169.99 with FREE UK delivery.

Snooper Lynx GT with live speed camera updates - £169.99
To view the full range of speed camera locators available to buy click here.
---
Key features
•GPS + GPRS technology - Thanks to built-in GPRS technology the Lynx GT LIVE updates its speed camera database automatically as you drive.
• 2.7-inch TFT display - 2.7-inch full colour TFT LCD display with 10 different screen colour combinations to choose from.
• Know the speed limit - Voice alerts and speed limit alerts displayed at every speed cameras location.
• Live mobile speed camera reporting - At the press of a button users can report new/live mobile speed cameras. These locations stay live on the database for 6 hours.
---
Snooper Lynx GT LIVE explained

The Snooper Lynx GT LIVE looks identical to the Lynx GT Lite and indeed the outer casing is the same. The difference between the two models is that the LIVE version updates itself automatically with new speed cameras, whereas the Lite version needs to be connected to a computer with an internet connection to achieve the same.
Ongoing subscription charges for the Lynx GT LIVE are either £7.99 a month, £22.99 a quarter or £86.99 a year. However, the suggested selling price (SSP) of £179.99 includes the first 12 months of the live automatice updates - this represents a saving of £36.99 from buying the LITE version and adding live updates via subscription.
The Lynx GT LIVE has a built-in SIM card and utilises GPRS technology, the same used in mobile phones. Once subscribed to the Snooper AURA LIVE speed trap database the Lynx GT LIVE continuously updates itself with new cameras. Plus users of the Lynx LIVE can also at the press of a button report and share mobile cameras as they spot them with other Lynx Live users. Reported mobile cameras stay live in the AURA live database for six hours.
Snooper Lynx GT Lite and LIVE accessories can be viewed and purchased from online retailer ActiveGPS.
---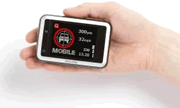 Lynx GT LIVE alerts
Featuring a large 2.7-inch TFT colour display all the information you need is a glance away including camera type, your speed, countdown in metres or yards.
---
Snooper AURA LIVE speed camera database

Being a "connected" GPRS device the Snooper Lynx GT LIVE uses the special AURA LIVE speed camera database. This database is different from the standard AURA database, in that as soon as a new update appears in the database the Lynx GT LIVEautomatically downloads it. This helps to ensure that driving with a Snooper Lynx GT LIVE speed camera detector, you have the very latest speed camera information and locations. Further to this it is also possible to add/report mobile speed camera locations as they are spotted by all Lynx GT LIVE owners. Reported mobile locations stay live for six hours and any motorist using the Lynx GT Live driving past with be alerted.
---
Detectable Cameras
Utilising GPS and GPRS technology the Snooper Lynx GT LIVE provides advanced warnings to the following fixed and mobile speed cameras.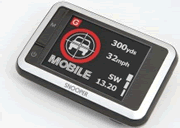 Fixed cameras:
• Gatso
• Truvelo
• SPECS average speed
• SpeedSpike
• Peek
• SpeedCurb
• Watchman
Mobile cameras:
• Contained within the AURA LIVE database and as reported by Lynx GT LIVE owners.
---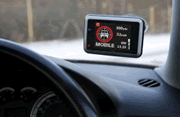 Snooper GT LIVE Features at Quick Glance:
• Alerts to fixed and mobile speed traps
• GPS and GPRS based camera detector
• 2.7-inch Full colour TFT Digital LCD
• Up to 10 screen colour combinations
• Wireless speed camera updates via GPRS technology
• Rechargeable battery provides up to 3 hour wireless operation
• Updates via PC
• Easy to install with windscreen or dash mount options
• Plug-and-play device easy to transfer from vehicle to vehicle
• 1 Year manufacturers guarantee
---
Snooper GT LIVE - What's in the box?
• Snooper Lynx GT LIVE
• 2 Metre Straight Power Lead
• 2 Metre Straight Hardwire Power Lead with Fuse
• Windscreen Mounting Bracket
• Dashboard Mounting Bracket
• Mains Power Charger with UK and EU Adaptors
• USB data download cable
• Snooper Lynx GT Software CD-Rom
• Snooper Lynx GT Quick Start Guide
Want more information regarding the set up and features of the Snooper Lynx GT LIVE? You can't get any better info than reading the manual. The manual opens in a PDF document.
---
Snooper Lynx GT LIVE comparisons
The Snooper Lynx GT LIVE isn't the only speed camera detector available to buy and use in the UK. Below you can read comparisons with two alternative speed trap detectors the Road Angel Gem Plus and Snooper Lynx GT Lite. To read more reviews for different speed camera detectors click here.
---
Road Angel Gem Plus
Both the Snooper Lynx GT LIVE and Road Angel Gem Plus speed camera detectors are connected to their databases thanks to in-built GPRS "mobile phone" technology. This means as both manufacturers add new and update existing speed traps locations motorists with either device will receive them as they are added... seconds later.
In addition to the GPS/GPRS technology the Road Angel Gem+ also features a built-in Laser detector for alerts to live laser based mobile speed cameras. The Lynx GT LIVE meanwhile is a GPS/GPRS only based product without laser detection.
Both units feature a colour screen, the Lynx GT's is larger at 2.7-inch. Road Angel's though also features speed limits for all roads, whether a camera is sited or not.
Connection and subscription to the Road Angel Gem Plus database costs 6 months for £39.99, 1 year for £65.99 or 3 years for £159.99. Subscription for the Snooper Lynx GT LIVE is priced at £7.99 a month, £22.99 a quarter or £86.99 a year.
To read the Road Angel Gem GPS and laser safety camera detector review click here.
---

Snooper Lynx GT Lite
The Snooper Lynx GT Lite speed camera detector appears identical to the Lynx GT LIVE model and it almost is. That is apart from one BIG difference, which is the Lite version requires a PC to update the speed camera database, whereas the LIVE version automatically updates itself as you drive. This is down to the built-in GPRS technology that the Lynx GT LIVE is equipped with.
The benefit of Lynx GT LIVE version is clear - LIVE and automatic updates when you need them most out on the roads of the UK.
The cost difference of maintaining the two different versions is though very vast. The Lite version comes with FREE lifetime speed camera updates, whereas the LIVE version costs £7.99 a month, £22.99 a quarter or £86.99 a year. A higher price, but what price do you place on your driving licence?
To view and read the Snooper Lynx GT Lite GPS camera locator review click here.
---
SpeedCamerasUK.com Online Shop
All of the speed cameras detectors reviewed on SpeedCamerasUK.com are also available to buy from us and include FREE delivery.
We hold extensive stock of each model (unless otherwise indicated) with dispatch same working day for orders placed before 3pm on any working day.
10 years of online trading
We first started selling speed camera locators right here at SpeedCamerasUK.com in August 2003, so we've just celebrated our 10th year of selling detectors online. We also sell the same products at our sister website ActiveGPS where we also sell an extensive range of GPS products, accessories and mapping software.
With 10 years of trading you can rely on us to only supply the best tried and tested products with unrivalled product knowledge from ourselves and, equally important, excellent support from the relevant manufacturer if it is required.
To view the latest range of speed camera detectors to buy click here.
---
Watch the video below to experience driving with a speed camera detector