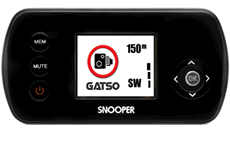 Review: Snooper Sapphire
Detection range: 1,000 metres
Set up: Integrated GPS antenna. TFT LCD display. Verbal warnings.
SSP: £149.99

Auto Express July 2008

Snooper Sapphire Features:

• Know the speed limit
Voice Alerts and Speed Limit Alerts displayed at every speed camera.
• 1.75-inch TFT display
1.75-inch Full Colour TFT LCD display. 11 screen colour combinations.
• UK and European Speed camera database
Gatso, Truvelo, Specs, DS2 , SpeedCurb, Watchman, Accident blackspots, Mobile Laser sites, High Risk Zones.
• Rechargeable battery
Built-in rechargeable battery. The Snooper Sapphire also includes cigarette lighter adaptor.

Snooper Sapphire - Features Reviewed
The wireless Snooper Sapphire speed camera detector includes full colour 1.75-inch TFT LCD with a choice of 10 different screen colour combinations. The Snooper Sapphire is finished in a high gloss black surround with chrome rear casing making it the most stylish system around. The Snooper Sapphire will provide alerts to speed cameras in the UK and Western Europe.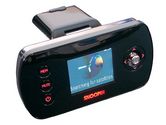 The Snooper Sapphire includes full colour visual alerts plus voice alerts that confirm the speed camera type, speed limit and distance countdown to every speed camera stored in Snoopers' unique Enigma database. The Snooper Sapphire detection system features Motorway mode that will only provide alerts for fixed speed cameras located on a motorway road.
You can set the pre-alert distance of the Snooper Sapphire in 50metre increments from 100metres to a maximum of 1000metres or you can select Auto Range.

The Snooper Sapphire uses Enigma, the most comprehensive speed camera database available. As new speed cameras are installed, they appear live on the Enigma database within 48 hours offering you the ability to download new speed camera data seconds after it has been recorded in the database. As well as the United Kingdom and Southern Ireland, the Enigma database allows your Snooper Sapphire to cover most of Europe. Included in the Enigma speed camera database are locations in France, Germany, Spain, Portugal, Belgium, the Netherlands, Switzerland and Italy. So from Manchester to Monaco you will always be protected by your Snooper Sapphire.
A number of Snooper Sapphire accessories can also be purchased from internet retailer ActiveGPS. View the Snooper Sapphire detector accessory range.
Snooper Sapphire Features:
• 1.75-inch Full Colour TFT LCD display.
• Speed camera database covers UK and Western Europe.
• Voice Alerts.
• Speed Limit Alerts.
• Up to 10 screen colour combinations.
• Mute button - Temporarily mute an alert.
• Speed camera updates via USB.
• Windscreen or Hardwire mounting options.
• Earphone socket for motorcycle use.
• Ultra slim, ultra compact.
• Fully Portable, easy to transfer from vehicle to vehicle.
• 1 Year manufacturers guarantee.
Snooper Sapphire
SSP £149.99

Features

Warnings to Gatso, Truvelo, SPECS.

Voice warnings of fixed and mobile cameras
.


Above speed limit warning.

Warns only when exceeding speed limit

.




Warning range 1000 metres.


Easy installation with provided cigarette lighter adaptor and suction cup.


We loved the look of the sleek, piano black Sapphire, with its smart colour screen and easy-to-access options list. As it has an on-board battery, it could also be used on two wheels, or in-car without a power lead. It has useful voice warnings/speed limits and clear information on-screen to back it up. And while we caught it out on a tricky reversible camera, it was spot-on otherwise.


Auto Express July 2008