Speed Camera Detector Buyer's Guide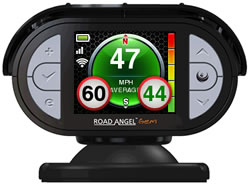 If you are looking to buy a dedicated speed camera detector you may not be aware of the different features that speed camera detectors offer. Here we introduce you to the features of different speed camera locators. The latest speed camera detectors are the Road Angel Gem Plus Deluxe (pictured right) and the Snooper 4ZERO.
If you would like to buy a speed camera detector click here. Alternatively you may prefer to read about sat nav systems or smartphone apps that provide the best speed camera information. If you'd like to jump to our speed camera detector recommendations below click here.
We also have a SpeedCamerasUK.com online shop where you can buy sat navs, speed camera detectors and other in-car devices. View the online shop.
---
Choosing the right detector
With a choice of about ten detectors available, the decision of which device to buy can be a bewildering one. Here we look at what's available, with some pointers and recommendations along the way.
---
1. On-screen information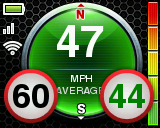 Screens on speed camera detectors range from basic LED text display on the Snooper 4ZERO to full colour LCD screen on the Snooper Lynx GT Lite that show full information about the location such as type of camera, on-screen countdown to the location, speed limit of the road and your speed.

The most advanced system the Road Angel Gem+ features a full colour touchscreen display which is very clear to see (as pictured right).
There are some speed camera detectors that also include an in-car camera and and screen to playback videos. Such as device is the Snooper DVR-3HD (pictured left). Read more and see in-car camera comparions by clicking here.
---
2. Voice alerts
In addition to on-screen information speed camera detectors also provide voice alerts which announce the type of camera and the speed limit, providing all the vital information without even needing to take your eyes off the road.
Radar and laser detectors feature a built-in speaker and provide an audio tone/beep to let you know that you are being targetted by a mobile radar or laser gun or a fixed speed camera using radar or laser. The dedicated radar and laser detector we sell and recommend is the Valentine One.
The video below shows the Snooper Pantera on approach to a Gatso speed camera location with spoken voice alerts. The same alerts are provided by the Snooper 3Zero but the Snooper 3Zero has the added benefit of radar and laser detecion too.
---
3. GPS, Laser and Radar

To alert and detect speed cameras in the road ahead, locators use one or more of three different technologies - these are GPS, Radar and Laser. To read more about each type click here.
GPS only devices like the Snooper Lynx GT Lite and the Snooper DVR-3HD rely solely on a database to warn of fixed and mobile safety cameras. GPS camera locators have been around since 2001 and are a must if you want to receive advanced warnings to all fixed cameras systems including the undetectable Truvelo and SPECs average cameras.
If as well as the GPS alerts you'd like to receive live alerts to mobile laser cameras then we'd recommend a device which includes GPS and a laser detector. Locators such as the Road Angel Gem+ and Gem+ Deluxe feature both.
If you want to detect every speed camera, the devices to consider buy are either the Snooper 3ZERO or new 4ZERO. Both these systems detects using

radar, in addition to GPS and laser detection.
If you just want a radar and laser detector only (without GPS alerts) then the device to buy is the Valentine ONE G3 (pictured left).
---
4. GPS camera database
The corner stone of any GPS speed camera locator is it's internal database. Prices to access the database range from free to £86.99 a year. So why the huge difference?
Some detector manufacturers choose to offer free lifetime speed camera updates to help entice customers to buy their detectors.
The Snooper Lynx GT Lite is currently the only speed camera detector to include a free lifetime subscription to the Snooper Aura camera database saving £30 a year! Whereas the Snooper 3ZERO and 4ZERO which uses exactly the same database charges the subscription fee. These products use the downloaded version of

the AURA database, which requires the use of Windows based PC to update.
Higher priced databases like that of the Road Angel Gem+ (pictured left) which is charged at £65.99 a year, feature access to the real-time speed camera database instead. This database doesn't need downloading from a PC, instead it updates as the unit is in your vehicle as you are driving.
---
5. Updating with or without a computer
Most GPS speed camera detectors require a Windows based PC to download the latest database of speed camera locations.
The latest detectors don't require a PC/Mac to update the speed camera database*. Instead these devices like the Road Angel Gem+ use GPRS/mobile phone technology to automatically update as you drive*. To read more about GPRS click here.
*A PC required for software and firmware updates.
---
6. Additional premium features
You've read what the different detectors do, from the different in-built technologies to the different databases. Now we look at the extra refinements that the manufactures have put into their products.
Rechargeable battery - if trailing leads across your dash board aren't welcome in your car, then you'll want to look at the Snooper Lynx GT Lite and Road Angel Gems. All three models feature there own internal rechargeable batteries, providing between 2 and 4 hour operation.
Live reporting of mobile camera sites - locators such as the connected Gem Plus have the ability at the press of a button to report live mobile camera sites. Within seconds of you or another motorist pressing the button, the cameras location is added to the database and shared with all other users. These locations remain on the database for the following 6 hours.

Driver Vehicle Recorder - The GPS speed camera detector the Snooper DVR-3HD (pictured right) not only has a speed camera warning system built-in but it also has a built-in in-car camera and 2.4 inch screen for playback of videos recorded. As you can playback anywhere this is perfect for providing evidence for road incidents and insurance claims.
---
SpeedCamerasUK.com Recommendations
We've been selling and recommending speed camera detectors since 2002. Camera locators have become far more advanced over the years. Based on the current 2014 range here are two systems that we'd strongly recommend:

Road Angel Gem Plus Deluxe
The Road Angel Gem+ Deluxe is the very latest device and represents extremely good value. With good on-screen information, speed limits for all roads and live automatically updated speed cameras as you drive. Click here to buy the Gem+ Deluxe from SpeedCamerasUK.com.

Snooper 3ZERO
The Snooper 3Zero has a low price of £160 and includes GPS, laser and radar technology. This is the only system that will warn you of all the cameras including mobile radar guns and live Gatso sites - so if this is a priority for you it is the definitive product to buy. Click here to buy the 3ZERO from SpeedCamerasUK.com.
---
How do speed camera detectors work?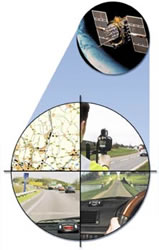 Many detectors these days don't actually detect. Instead using a built-in database and GPS satellite technology they relate your precise GPS-location with that of the built-in speed camera database. As you approach a speed camera location the device knows this and alerts you from a pre-set range. GPS databases are preloaded with both fixed and mobile speed camera locations.
A speed camera detector is a phrase coined from the early devices from the 1990's and refers to a device which uses radar and/or laser technology. These systems actually detect live speed cameras e.g. fixed Gatso cameras and mobile sites using radar or laser technology.
These days as the technology used in speed cameras has advanced, using a conventional radar or laser detector simply would not warn you to all the cameras in use on the UK's roads. For example SPECS average cameras are totally undetectable and simply take a time stamped digital photo at two points. The cam eras software then compare the time between the two.
There is however a place for radar and laser detectors today, but no longer as a standalone device but along side a sat nav with a good GPS speed camera database. Or for motorists who just wish to receive alerts to mobile speed camera locations. To read more about radar and laser detectors click here.
---
Speed camera detector technology explained
Speed camera locators use a variety of different technology, here we cut through the jargon and explain the different technologies you'll find inside a speed trap detector.
GPS or Global Positioning Systems use a GPS database of speed camera locations to warn you as you approach each location.
GPRS which is short for General Packet Radio Service uses mobile phone technology to provide a real-time two-way connection between the speed camera detector and the manufacturers database. Updates and new speed cameras can be automatically added without the need of updating from a PC. Likewise the user can also send mobile speed camera locations back to the manufacturer/suppliers database too.
Laser detection enables you to detect laser based mobile cameras such as Police handheld laser guns.
Radar detection enables you to detect radar based fixed and mobile cameras such as Gatso and mini Gatso.
---
SpeedCamerasUK.com Online Shop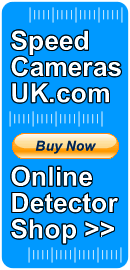 All of the speed cameras detectors at SpeedCamerasUK.com are also available to buy from us and include FREE delivery within the United Kingdom (UK). For deliveries outside of the UK please see delivery information for costs.
We hold extensive stock of each model (unless otherwise indicated) with dispatch same working day for orders placed before 3pm on any working day.
10 years of online trading
We first started selling speed camera locators right here at SpeedCamerasUK.com in August 2003, so we've just celebrated our 10th year of selling detectors online. We also sell the same products at our sister website ActiveGPS where we also sell an extensive range of GPS products, accessories and mapping software.
With 10 years of trading you can rely on us to only supply the best tried and tested products with unrivalled product knowledge from ourselves and, equally important, excellent support from the relevant manufacturer if it is required.
To view the latest range of speed camera detectors to buy click here.
Last updated: 18th August 2015