Speed Camera Types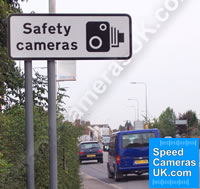 Did you know that there are at least 13 different types of safety or speed cameras that are in use on the roads of the UK? All of these cameras appear in our online database. Below we look at each with further information just a click away.
Starting first with the popular fixed Gatso camera, to the latest HADECS system, to Police mobile handhelds, to variable speed cameas and average speed check cameras which are becoming an increasingly popular choice. You'll find all these safety cameras either on the road side, on overhead gantries, behind hedges and road traffic signs on Britain's roads. Question is will you spot them, before they spot you?
A speed camera detector or sat nav with a good speed camera database may be the answer, read more below about the different types of detectors that help keep you on the right side of the law and your licence intact.
What's your view on speed cameras? Tell us here.