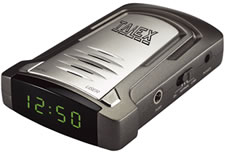 Review: Talex
Detection range: 500 yards
Set up: Integrated GPS antenna, LED screen, Verbal warnings.
SSP: £149.95

Talex Features:

• Detects fixed and mobile speed cameras
Detects to Gatso, Truvelo, SPECS, Speedmaster, DS2, traffic light cameras, accident blackspots and all other permanent safety cameras.
• Know the speed limit
The detector will give an over-speed warning in close proximity to the camera if exceeding the speed limit, but will automatically mute when within the speed limit.
• No false alerts
The driver is advised of only cameras on the road they are driving along, thereby negating false alerts.

Talex - Features Reviewed

The Talex is easy to install and alerts the driver to a fixed or possible mobile camera site, gives the speed limit at that speed camera site and the LED display on the front of the GPS Talex provides additional information to the voice announcements.

When a warning is triggered, a chime is heard followed by an announcement such as 'Warning speed camera 500 yards ahead – limit 30 miles per hour', the speed limit at the speed camera site will flash for eight seconds, before going back to displaying the vehicle's speed.

This will typically happen at 500 yards from the camera position, (in some cases a 500 yard warning is not ideal because of the road layout). A second chime is heard at 200 yards from the camera site, and if the vehicle is still over the speed limit, a continuous warning is heard 'Warning – reduce speed' until the vehicle speed drops to the speed limit, or the camera site is passed.

The accessories for the Talex are available to buy from ActiveGPS.co.uk. They stock in car power leads and magnetic mounts.
Talex
SSP £149.95

Features

Warnings to Gatso, Truvelo, SPECS, mobile traps.

Voice warnings of fixed cameras
.

Warning range 500 yards.


Easy i

nstallation with provided cigarette lighter adaptor.





Although this Talex system benefited from the lowest subscription on test - £29 is around half the cost of the most expensive - there were no holes in the database. Indeed, it also unearthed all the known mobile sites. We liked the clear female voice, revealing the type of trap ahead and the speed limit (the latter also flashing on the display). And while it's not the most stylish product on test, this is extremely good - and a worthy Recommended unit.


Auto Express March 2006
Snooper Sapphire
The Snooper Sapphire includes full colour visual alerts plus voice alerts that confirm the speed camera type, speed limit and distance countdown to every speed camera stored in Snoopers' unique Enigma database. The Snooper Sapphire detection system features Motorway mode that will only provide alerts for fixed speed cameras located on a motorway road.

Novus Delta
The Novus Delta speed camera detector features the same speed camera database as the Talex. Though the Novus Delta doesn't include Schools, Accident Blackspot locations, Trip Meter, Average journey time, maximum journey time features.