Home / Sat Nav Reviews / Garmin Sat Nav Reviews
Garmin nuvi 255 Review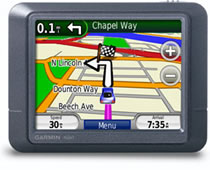 The Garmin nuvi 255 is a satellite navigation system. It features UK and European mapping and allows you to do a fulll post code search. This Garmin can be equipped with UK and European speed camera locations. Read more about the features of the Garmin nuvi 255 and how it works below and find out which speed cameras it detects.
Review: Garmin nuvi 255
Detection range: 1,000metres
Set up: Integrated GPS antenna.
SSP: £99.99
---
Garmin nuvi 255 Features:
‣UK and European street-level maps
Garmin nuvi 255 utilises NAVTEQ street-level mapping for the UK and Europe.
‣Cyclops speed camera locations
Garmin nuvi 255 provides alerts for most fixed, average speed, mobile, variable, temporary/roadwork, red light and red light speed cameras.
---
Garmin nuvi 255 Features Reviewed
Simple, safe and portable with optional traffic re-routing, the Garmin nuvi 255 is your personal travel assistant for life on the go. This simple, safety-minded navigator leads the way with turn-by-turn directions, advanced safety camera warning system to get you there on time and keep you safe on the road. Packed with up to millions of points of interest (POIs) and maps for Europe, the Garmin nuvi 255 is compact, versatile and easy to use.
---
Simplicity and Safety
Garmin nuvi 255 comes preloaded with City Navigator NT map data for Europe. Simply touch the colour screen, key in your destination and nüvi takes you there with turn-by-turn spoken directions, 2-D or 3-D mapping and smooth map redraw rates. Digital elevation maps show shaded contours for an understanding of the surrounding terrain. In addition, Garmin nuvi 255 accepts custom points of interest such as traffic blackspots and post offices and lets you set proximity alerts to warn you of upcoming POIs. With HotFix satellite prediction, Garmin calculates your position faster to get you there quicker.
---
Go Beyond Navigation
Garmin nuvi 255 comes with photo navigation to revolutionise your sightseeing. Plan trips to landmarks and attractions simply and easily before you set off. Choose and save location-tagged photographs from millions of Google Panoramio pictures in a wish-list of places to visit. Then, at your leisure, select a photo destination on your Garmin for turn-by-turn directions straight to the scene. Other built-in travel tools include a JPEG picture viewer, world travel clock with time zones, a currency and measurement converter, calculator and more.
---
Cyclops Safety Cameras
The number and locations of speed cameras around the world is ever-changing. Drive aware, alert and assured with updates to the powerful speed camera database inside the Garmin nuvi 255. Updates are available through a one-year subscription, a one-time-only option and a free trial option.
These speed cameras updates link the Garmin nuvi 255 to the daily maintained Cyclops database, which contains information about fixed, average speed, mobile, variable, temporary/roadwork, red light (U.K. only) and red light speed cameras (U.K. only).
As you approach a speed camera, the Garmin nuvi 255 sounds an alert and displays a speed limit warning. The Cyclops driver safety system is powered by smart GPS software, which recognises the road you are driving on and your direction of travel to provide route-relevant alerts without annoying false warnings.
---
Last updated: 21st September 2021