Home > Speed Camera Types > Redflex Red and Redflex Speed
Redflex Red and Redflex Speed Cameras Explained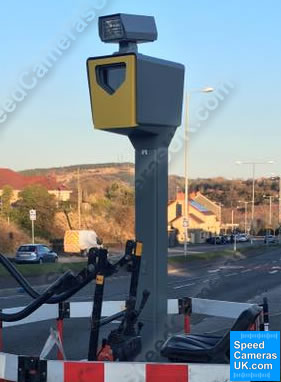 Redflex fixed red light and fixed speed enforcement systems are now in use in the UK having been approved by the Home Office. There are two types of Redflex these are:
REDFLEXred - junction enforcement for catching red light jumping and speeding through green light traffic light systems at road junctions.
REDFLEXspeed - enforces speed limits on motorways and major roads with up to six lanes enforced.
Point to Point Average Speed and Mobile Speed Cameras
Average speed check zones can be enforced by RedFlex as well. These point to point speed cameras measure the drivers average speed from one speed camera location to another.
In vehicle mounting options are available for the RedFlex speed cameras making it possible to police speed limits across up to six lanes of traffic.

---
How does Redflex and Red Speed speed camera work?
There is also a built-in 11 megapixel high resolution digital camera for taking high resolution colour images for capturing offence verification to provide proof of the offence(s) vehicle speed and location. The REDFLEX speed enforcement cameras can enforce up to six lanes of traffic simultaneously.
Photographs can be taken to simultaneously captures offences by the same vehicle. Equally the digital camera can capture multiple offending vehicles at the same time. Vehicle and lane identification is used to provide evidence of the offence(s) by vehicle(s).
Single red light offences whereby the driver crosses a red light carries the usual red light violation penalty. Police have discretion as to whether the speeding element should be prosecuted. Speeding through a green light is also a speeding offence which is enforced by REDFLEXred speed cameras.
Loop detectors are part of the Redflex's proprietary digital signal processing which provides detection and location accuracy. Along with the digital camera this provides positive vehicle and lane identification.
---
Points and Penalties
The absolute minimum penalty for being caught speeding on the UK's roads increased 66.7% in July 2013 from £60 to £100 fine. A minimum of 3 penalty points will also be added to your licence.
However, depending on the road speed limit and your actual recorded speed in the speeding offence a court summons may be generated in place of the Notice of Intended Prosecution (NIP) through the post with the code SP10, SP20, SP30, SP40 or SP50. For more information click here.
With Redflex speed cameras if you are caught speeding through a red light you will certainly be prosecuted for jumping the red light but the speeding offence will be at the discretion of the police officer.
---
Where are Redflex Red and Redflex Speed cameras used?
Redflex and RedSpeed speed cameras are in use within the UK. If you know of Redflex or RedSpeed enforcement camera locations please email us.
---
Redflex Red and Redflex Speed Camera Questions and Answers
Ask your own question and read comments in general about speed cameras in the UK.
---
Redflex Red and Speed locations
What's your view and experiences with Redflex speed cameras in the UK? Tell us here.
Want to know where the UK's Redflex speed cameras are as you drive? Here at SpeedCamerasUK.com we have a UK database of speed camera locations. This database also includes SpeedCurb, Truvelo, New Truvelo, SPECS, Peek, Traffic Light speed cameras and more. Read more about the speed camera types.
---
Speed camera alerts as you drive
---
Last updated: 21st September 2021