Speed Camera Detector Buyer's Guide and Reviews
Buying a speed camera detector? The below speed camera detector guide explains the top features, awards achieved and more.

All speed camera detectors availble to buy at SpeedCamerasUK.com feature a GPS database of fixed and mobile speed cameras including Gatso cameras, HADECS 3 and SPECS average speed cameras. The GPS databases are updated on a daily basis by the manufacturer and to enable the latest download of the speed camera database you must have a compatible computer connected to the internet.
Compare the UK's speed camera detectors.
On approach to each speed camera location the speed camera detector will provide audible spoken voice/tone alerts and on-screen alerts.
---
SpeedCamerasUK Recommendations
Snooper MY-SPEED XL Gen2 - A large 5-inch screen is the largest screen of any speed camera detector.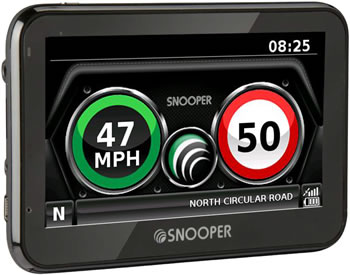 Pictured above: Snooper MY-SPEED XL full colour 5-inch touchscreen display.
---
Last updated: 11th September 2023