Home / Speed Camera Detectors / Speed Camera Detector Reviews
Laser Elite Front Sensor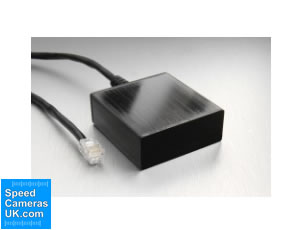 Laser Elite is a laser jammer and a parking sensor in one compact system. With the laser jammer you will jam laser signals and the parking sensor will help you to safely park your vehicle. The sensor device is waterproof and the in car unit is compact with LED's to alert you to jammed laser signals and the parking sensor beeps to alert you at distances from objects.
Product summary:
Technology: Laser Jammer, Parking Sensor
Installation: Permanent, hardwire.
Key Features:
‣Laser diffuser (front sensor only)
‣Parking sensor (front sensor only)
‣Laser Elite mounts into front of vehicle
‣Can be mounted above rear bumper
‣Waterproof sealed
‣Made of anodised aluminium
‣Night time driving mode limits LEDs to only when in alert mode
‣1 Year manufacturers guarantee
---
Laser Elite Parking Sensor and Laser Diffuser
The Laser Elite is a laser diffuser and parking sensor that will help you to park and also diffuse laser signals aimed at your vehicle. The parking sensor and laser diffuser is designed to be mounted on the front of your vehicle. There are four specific preset distances that you can set the Laser Elite to provide beeps for alerting you when you are a set distance from objects, helping you to park your vehicle with accuracy. The laser diffuser will prevent laser guns from detecting your vehicle including the LTI-Truspeed euro/ Tru speed S and Trafficpatrol XR. For a full list of laser guns that the Laser Elite will work with see further down this page.
The Laser Elite is compact and discete to install. There are a number of quick detachable cables for a quick, stealth installation. The Laser Elite is also waterproof and made from anodised aluminium.
There is a night mode whereby when activated the LEDs will only light up when the Laser Elite is powered up and in alert mode when a laser signal is detected. There is also a silent start-up mode.
The Laser Elite head sensor should be mounted under or around the front number plate or in a grill space making sure the front covers are not obstructed in any way. The in car unit can be mounted under the dashboard or centre console and should ideally be accessible to the driver as there are switches and LEDs for the driver to use and see when operating the Laser Elite. The main unit also provides audible beeps when using the parking sensor.
The Outer Sensor can be mounted between the front grill partitions or above the rear bumper.
Important: If you cut the cable or remove the factory installed connector this voids the warranty and may cause malfunction.
The Laser Elite can also recognise and prevent interference from other laser based systems such as laser speed traps. If you decide to, there is an option to restrict warning to these interfering devices.
Laser guns that the Laser Elite will warn you to are the following:
‣LTI - Marksman 20.20,LTI-Truspeed US and Euro Anti-jam
‣LTI – TruCam
‣LTI Tru speed S
‣LTI - UltraLyte, LR, 100, 100LR, 200, 200LR, Compact, LRB,100pps supported
‣Unipar services SL700
‣Riegl – FG21-P
‣Vitronic – Poliscan Speed
‣RedSpeed – SpeedGuard
‣Kustom - ProLaser I
‣Kustom - ProLaser II
‣Kustom - ProLaser III
‣Kustom - Pro-Lite
‣Kustom - LaserCam II
‣Stalker - LZ-1
‣Laser Atlanta - SpeedLaser, S, R, Stealth Mode
‣Cleartone - Stealth SpeedLaser
‣Jenoptik - LaserPatrol
‣Jenoptik - Laveg, Video-Laveg
‣Multanova - StarLaserRedflex - Lasercam, Lasercam NT
‣Robot - TraffiPatrol, V ,Traffipatrol XR
‣Sagem - MestaLaser
‣Sagem - EUROLaser
‣Truvelo - Lidar, D-Cam
‣Riegl - LR90-235
‣Fama - famaLaser II
‣Fama - famaShot III
‣Traffic Observer - LMS 291/221/04/05
‣NJL Kft - SCS-101/SCS-102
---
Laser Elite Features:
‣Laser diffuser
‣Parking sensor
‣Can accomodate up to 4 laser sensors
‣Installs into the front of vehicle
‣Can be mounted above rear bumper
‣Waterproof sealed
‣Made of anodised aluminium
‣Night time driving mode limits LEDs to only when in alert mode
‣1 Year manufacturers guarantee
---
Installing the Laser Elite
The Laser Elite requires installation near the number plate or on the front grill of your vehicle. Alternatively, you can mount the sensor on the rear of the vehicle. There is a separate in car unit that should be mounted under the dashboard of under the middle console of your vehicle. You should mount the incar unit where you can see it because LED's will flash to alert you to laser signals being jammed. Plus the in-car unit will beep when using the car parking sensor so you know how far away you are from objects when parking.
---
Laser Elite - What's in the box?
‣Outer sensor
‣Control box
‣Control Set (LOOM)
‣Installation accessories
‣Users guide
---
Laser Elite - Specifications
‣Operational power supply 10,5V to 15V
‣Current consumption 300 mA max.
‣Speaker volume: 85 dB
‣Laser class: 1M
‣Built-in self-test: Performed at power-up
(LEDs flash + sound)
‣Activation mode - few seconds following activation - selftest
‣Search mode - until LIDAR detection
‣Jamming mode - upon LIDAR detection
---
Laser Elite Questions and Answers
Question: I am interested in purchasing a laser diffuser to fit to the front of my vivaro van. Reading between the lines, the traffic bill 2004 made them illegal. Is this correct? Did the bill pass into law or was it never followed through?
Answer: We don't know the exact law regarding their use. However, at best it is a very grey area in UK.
Many motorists caught using one have felt a very heavy hand of the law and ended up in court. Buy and install one knowing that if caught using one you could end up with more points and fines than simply getting caught speeding.
---
Making a purchase from SpeedCamerasUK.com
Once you've found the sat nav, speed camera detector, other electronic device or accessory that you'd like to purchase you can buy online using a debit/credit card or via PayPal. We use SagePay to process our online payments who are PCI DSS Level 1 compliant, so you have total peace of mind with your personal and payment details.
All of our products are sophisticated electronic devices which requires that you read, understand, and act upon the information given in the instruction manual (usually available via the above 'manual' link). You will need internet access and, in accordance with the manufacturers' recommendations, regularly seek out and accept all firmware or software updates offered by the manufacturer. All GPS devices need to 'see' the satellites in the sky. Therefore you will need to know that your vehicle does not have glass that will block or impede the GPS signal. The same advice about vehicle glass applies to radar and laser signals.
---
Last updated: 17th February 2023