Home / Sat Nav Reviews / Navman Sat Nav Reviews
Navman S90i Review and Comparison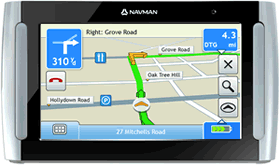 Review:Navman S90i
Detection range: 1,000 metres
Set up: Integrated GPS antenna, traffic module, digital camera.
SSP: £249.99
---
Navman S90i Features:
‣UK and Western Europe Satellite Navigation
You will always be in control, even on unknown roads with comprehensive map data from TeleAtlas for the UK and Western Europe.
‣Real-Time Traffic Information
The Navman S90i includes an integrated traffic module so you will no longer have to worry about being stuck in those long traffic jams, or held up at the roadwork's. It is now a necessity for those long commutes around the country.
‣Speed Camera Locations
Navman have teamed up with RoadPilot the UK's leading supplier of speed camera location data to provide UK and European speed camera locations and speed limits.

---
Navman S90i Features Reviewed
The Navman S90i satellite navigation system features maps of 21 Western European countries pre-installed. The Navman S90i also features a brilliant, sharp 4.3-inch colour widescreen touch screen display with turn by turn navigation with voice guided instructions and a full 8-digit UK postcode searches with 2D and 3D moving map display.
The Navman S90i also features an integrated Bluetooth module for safe hands free calling, NavPix 2 megapixel digital camera for navigation via images and integrated TMC traffic receiver for real-time traffic information. The Navman S90i also features points of interest, speed camera locations and intelligent day/night display.
Real-Time Traffic Information
The Navman S90i also provides real-time traffic information via the integrated traffic module. The Navman S90i uses the Traffic Message Channel (TMC) which broadcasts real-time traffic and weather information via the FM Radio Data System (RDS). FM radio stations transmit traffic information updates on a regular cycle, particularly around rush hours, with up to hundreds of events broadcasted to TMC receivers. Your Navman S90i will decode these events and display the various events and give you options on how to avoid traffic congestion in the road ahead.
Navman S90i Functions
The Navman S90i is the only Navman S-Series model with an integrated 2 megapixel digital camera capable of creating NavPix photos. A NavPix photo carries its exact location data, which your Navman uses to navigate to - handy if you don't have the address or postcode of famous places you would like to visit. For example, who knows the exact address of the Eiffel Tower, the Tower of London or the Brandenburg Gate? By combining images with geo-referencing, NavPix lets you use images, such as the Eiffel Tower, as points of interest (POIs). You can then use those NavPix images when planning routes on your Navman S90i.
Speed Camera Locations
The Navman S90i is pre-loaded with a free trial of the Navman UK speed camera database. The latest safety camera data is fully integrated with the Navman S90i. Colour coded speed camera icons are displayed on the Navman S90i so you can easily recognise the type of speed camera on your route. You can also select your proximity range allowing you to decide when you should be alerted of an approaching speed camera.
Subscribe to monthly updates of speed camera locations for the United Kingdom. Subscription to the Navman UK speed camera database is priced at £34.95 for 1 year or £69.90 for 3 years.
---
Navman S90i alternative purchases:
Please note that the Navman S90i, Becker Traffic Assist 7928 and Snooper S2000 Syrius Proline mentioned on this webpage have ALL been discontinued. To view the latest sat navs reviewed by SpeedCamerasUK.com click here.
Becker Traffic Assist 7928

Becker Traffic Assist 7928 personal navigation device is pre-loaded with mapping for 37 European countries. The Becker Traffic Assist 7928 provides 4.8-inch TFT high contrast, low reflection colour touch screen, with 2D or 3D moving maps display and includes full 8-digit UK postcode search.
Snooper S2000 Syrius Proline

Snooper S2000 Syrius Proline satellite navigation system has an exceptional super bright 4.3-inch widescreen view, built-in rechargeable battery and utilises NAVTEQ street level mapping for the UK and Ireland. The Snooper S2000 Syrius Proline also includes Snoopers unique Enigma database of fixed and mobile speed cameras.
---
Last updated: 17th February 2023