Laser Pod explained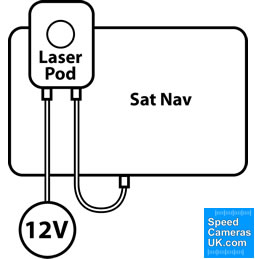 The Snooper Laser Pod is a laser only device. This device is designed to detect live laser based devices such as laser based guns used by the Police.
The Laser Pod detector has been designed to work with the majority of sat navs including Garmin, TomTom, Apple iPhone, etc. However for it to work the sat nav MUST operate on 5 volts. A selection of different cables are provided to help connect the Laser Pod to your sat nav.
You can also use the Laser Pod on it's own as a standalone laser detector. Supplied in the box is a windscreen mount and car charger.
The Laser Pod does exactly what it says - it will detect mobile Laser devices. Only LIVE mobile Laser guns will be detected. There are no fixed roadside speed cameras which operate via Laser. The Snooper Laser Pod will not detect radar. The Snooper Laser Pod does not have a GPS camera database. If you require a device which uses both laser and radar detection, then the device to consider is the Snooper 4ZERO Elite BT. The 4ZERO Elite BT features a GPS database and both radar and laser detection.
---
Laser Pod alerts
When the Laser Pod detects a laser based device, it sounds an audible alert and the device displays a bright light to further warn you.
---
Detectable Speed Cameras
Utilising Laser technology the Snooper Laser Pod provides advanced warnings to the following mobile speed cameras.
Mobile cameras:
‣Laser based device
---
Snooper Laser Pod Features:
‣Works with most portable sat navs
‣Neat and easy installation
‣Audible and Visual alerts
‣Range up to 1500m
‣Detects most types of laser gun
‣Can also be used as a stand alone laser detector
‣1 Year manufacturers guarantee
Subscription:
Not applicable - NO database, detects live laser only.
---
Snooper Laser Pod - What's in the box?
‣Snooper Laser Pod
‣5volt car charger
‣Suction Cup Bracket
‣Velcro Adheshive Pad
‣x5 Sat Nav Connector Cables
‣Instruction Manual
---
SpeedCamerasUK.com Online Shop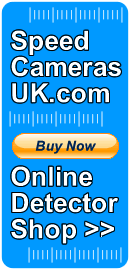 All of the speed cameras detectors at SpeedCamerasUK.com are also available to buy from us and include FREE delivery within the United Kingdom (UK). For deliveries outside of the UK please see delivery information for costs.
We hold extensive stock of each model (unless otherwise indicated) with dispatch same working day for orders placed before 3pm on any working day.
15 years of online trading
We first started selling speed camera locators right here at SpeedCamerasUK.com in August 2003. With 15 years of trading you can rely on us to only supply the best tried and tested products with unrivalled product knowledge from ourselves and, equally important, excellent support from the relevant manufacturer if it is required.
To view the latest range of speed camera detectors to buy click here.
Last updated: 18th December 2018