Snooper MY-SPEED XL Explained
The Snooper MY-SPEED XL features a database of speed limits for all roads across the UK and Western Europe which is provided by Here Maps. The MY-SPEED XL also uses the AURA speed camera locations database to warn you via GPS technology to speed cameras in the UK and Western Europe. Furthermore these two databases are FREE for the lifetime of the this speed camera detector and speed limit warning system. There is also a built-in rechargeable battery providing 3 hours of battery power for cable free operation.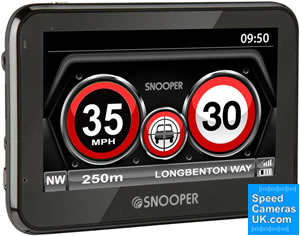 The Snooper MY-SPEED XL will provide audible and visual warning when you are driving above the speed limit helping you to drive at the enforced speed limit. The database of speed limits is available to download once per year. The speed camera database is also available for multiple vehicles. You can select from:
‣Car
‣Caravan
‣Motorhome < 3.5t
‣Motorhome > 3.5t
‣Truck 3.5t-7.5t
‣Truck 7.5t-12t
‣Truck > 12t
Please note: The Snooper MY-SPEED XL speed limits are advisory speed limits ONLY. Always check the roadside speed limit signs and abide by local driving regulations and laws in the country you are travelling. It is the responsibility of the driver of the vehicle to ensure that they are driving within the posted speed limits at all time.
The 4.3-inch TFT LCD touchscreen on the Snooper MY-SPEED XL shows the following information:
‣Your vehicle speed
‣Speed limit of road regardless of whether there is a speed camera there or not
‣Direction of travel
‣Road name or road number
‣Type of speed camera when approaching a speed camera location
‣Can displays speed in MPH or KPH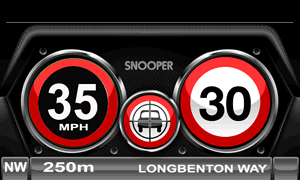 When driving above the speed limit your speed will be circled in red with the road speed limit on the right.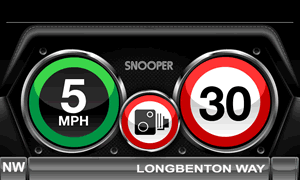 When driving below the speed limit your speed will be circled in green with the road speed limit on the right.
Speed cameras included in the database are: SPECS, Gatso, Truvelo, DS2, Watchman, Peak, Speedcurb, known mobile speed camera sites and variable speed cameras (such as motorway variable speed zones).
If you select the Smart Mute feature then you will only receive warnings to speed cameras only when driving above the speed limit. If you are driving above the speed limit and you reduce your speed to below the speed limit then with Smart Mute feature 'on' the alerts will be muted.
You can download the speed camera database as often as you like for FREE. However, the speed limit database is only downloadable once per year.

The Snooper MY-SPEED XL features the AURA speed camera database which includes speed camera locations in the following countries:
‣UK and Ireland
‣Germany
‣Holland
‣Belgium
‣France
‣Spain
‣Portugal
‣Switzerland
‣Italy
‣Austria
‣Luxembourg
‣Denmark
‣Norway
‣Sweden
‣Finland
‣Poland
‣Romania
‣Russia
‣North America
‣Canada
‣Australia*
‣New Zealand*
‣South Africa
*MY-SPEED XL is not compatible with Australia and New Zealand
A microSD card is included in the box to store the Speed Limit Database and AURA Speed Camera database. The windscreen bracket and car charger are also included in the box when buying the MY-SPEED XL.
---
Detectable Speed Cameras
Utilising GPS, radar and laser detection the MY-SPEED XL will provide advanced warnings to the following fixed and mobile speed cameras:
Fixed cameras:
‣Gatso
‣Truvelo
‣Truvelo D-Cam
‣SPECS
‣HADECS 3 (identified on the MY-SPEED XL as a GATSO camera)
‣SpeedSpike
‣Peek
‣SpeedCurb
‣Watchman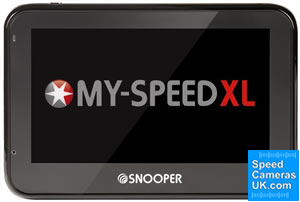 ---
Snooper MY-SPEED XL Features:
‣4.3-inch LCD colour display
‣Here maps speed limit data for UK and Western Europe
‣Select vehicle type for appropriate advisory speed limits; Car, Truck, Motorhome, Caravan
‣Snooper AURA speed camera database FREE to download
‣Up to 3 hour battery life - built-in rechargeable battery
‣Displays your speed using GPS technology
‣Displays road name or road number
‣Audible and visual alerts when exceeding the speed limit - user selectable
‣MY-SPEED limit alert - select any speed limit for particular speed limit alert
‣MPH or KPH settings
‣Fully Portable; transfer from vehicle to vehicle
‣Day and night mode
‣GPS clock
‣Electronic GPS compass
‣Displays current time
‣Volume and brightness controls
‣User selectable languages
‣Dimensions: Width - 118mm, Depth - 12mm, Height - 90mm
‣1 year manufacturers guarantee
Snooper MY-SPEED XL Manual
Learn even more about the Snooper MY-SPEED XL by reading the manual. Please click the PDF logo below. The manual opens in PDF format.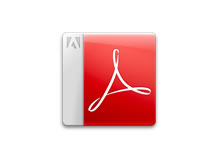 ---
Snooper MY-SPEED XL Questions and Answers
Question: I have seen these new yellow tubular cameras that flash situated on the left side of the gantry on motorways every now and then, will they be detected by a snooper my - speed xl?


Answer: They sound like they could be HADECS speed cameras. If this is the case, then yes they will be in the Snooper AURA speed camera database which the Snooper MY-SPEED XL uses.
---
Question: Snooper MY-SPEED XL...
1) so can update day/week/month/ or once a year.
2) police  vans camera  any way and gives u time to slow ?
3) hand held version as VANS time?
4) speed on item 30 is the right speed on data base?

Answer: In answer to your questions:
1. Yes, you can update the Snooper MY-SPEED XL as often as you like.
2. Police and other mobile speed camera vans are undetectable by the Snooper MY-SPEED XL as unlike the Snooper 4ZERO Elite BT, the MY-SPEED XL does not feature a radar and/or laser detector. You will receive alerts to mobile speed camera location, but these will only be via ones programmed into the GPS database by Snooper.
3.  As above.
4. The speed limit database is provided by here maps and updated once a year. There may be some errors within this database over the course of the year, as speed limits are reduced/increased by local authorities.
---
Question: Snooper MY-SPEED XL the pdf manual suggests that there is a subscription for the Auora? database of £29.99 each year. The information of your website page suggests that there is no subscription required. Could you clarify please?
Answer: I can confirm that despite the Snooper MY-SPEED XL PDF manual mentioning a subscription charge, there is in fact no subscription to pay either for the speed camera updates or the speed limit updates.
---
Snooper MY-SPEED XL Installation
Snooper MY-SPEED XL includes windscreen mounting bracket and a cigarette lighter car charger. There is also a microSD card for storing the speed camera database and the speed limit database. You should locate the MY-SPEED XL in a place where the device can been seen by the driver without restricting the drivers view of the road ahead and also whereby you can view the system without taking you eyes off of the road ahead to maintain safe driving at all times.
The Snooper MY-SPEED XL should not be left plugged in to the cigarette lighter adaptor when you start your vehicle as power surges can cause damage to your unit (the cigarette lighter socket is prone to power surges).
It is fully legal to use a speed camera detector in the UK. However, before using the Snooper MY-SPEED outside of the UK we STRONGLY RECOMMEND that you check to ensure that the use of a speed camera detector in other countries is also legal.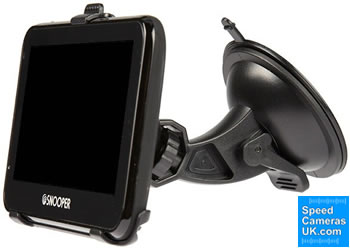 Snooper MY-SPEED XL Software Requirements:
Your computer must have an Intel Pentium Class processor or equivalent, a minimum of 32MB of RAM, 20MB of free space and a spare USB connection. The computer monitor must have 256 (8-bit) colours or greater and you also must have a CD ROM drive.
The My Speed will only operate on Windows computers. Specifically, you must be using Windows Vista, Windows 7, 8, 8.1 or WIndows 10. It will also only work with Internet Explorer 6 or Netscape Navigator 6 or above. Snooper software does not support WIndows 95, 98, Millennium, 2000, XP or Apple Macintosh operating systems.
The Snooper My Speed will not operate when using Windows 95, 98, 98SE, Millennium, Windows XP (64 bit) or Apple Macintosh operating systems.
---
Snooper MY-SPEED XL Subscription:
There are no subscriptions to pay with the Snooper MY-SPEED XL. Both the speed limit database and the speed camera database are FREE for the lifetime of the product.
---
Snooper MY-SPEED XL - What's in the box?
‣Snooper MY-SPEED XL
‣Windscreen Mounting Bracket
‣12V-24V in car power supply
‣CD Rom - PDF User Manual
‣USB Cable
‣MicroSD card
If you require additional accessories for the Snooper MY-SPEED XL these can be purchased via the Snooper MY-SPEED XL accessory page.
---
Making a purchase from SpeedCamerasUK.com
Once you've found the sat nav, speed camera detector, other electronic device or accessory that you'd like to purchase you can buy online using a debit/credit card or via PayPal. We use SagePay to process our online payments who are PCI DSS Level 1 compliant, so you have total peace of mind with your personal and payment details.
All of our products are sophisticated electronic devices which requires that you read, understand, and act upon the information given in the instruction manual (usually available via the above 'manual' link). You will need internet access and, in accordance with the manufacturers' recommendations, regularly seek out and accept all firmware or software updates offered by the manufacturer. All GPS devices need to 'see' the satellites in the sky. Therefore you will need to know that your vehicle does not have glass that will block or impede the GPS signal. The same advice about vehicle glass applies to radar and laser signals.
---
SpeedCamerasUK.com Online Shop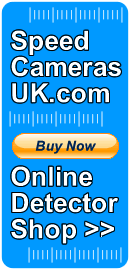 All of the speed cameras detectors at SpeedCamerasUK.com are also available to buy from us and include FREE delivery within the United Kingdom (UK). For deliveries outside of the UK please see delivery information for costs.
We hold extensive stock of each model (unless otherwise indicated) with dispatch same working day for orders placed before 3pm on any working day.
14+ years of online trading
We first started selling speed camera locators right here at SpeedCamerasUK.com in August 2003. We also sell the same products at our sister website ActiveGPS where we also sell an extensive range of GPS products, accessories and mapping software.
With 14 years of trading you can rely on us to only supply the best tried and tested products with unrivalled product knowledge from ourselves and, equally important, excellent support from the relevant manufacturer if it is required.
To view the latest range of speed camera detectors to buy click here.
Last updated: 8th February 2018