Home / Sat Nav Reviews / Snooper Sat Navs
Snooper S6800 Pro Sat Nav

The Snooper S6800 Pro is latest a sat nav in the Snooper satellite navigation range and was released in November 2014. Featuring an impressive 7-inch screen enabling street-by-street navigation. The Snooper S6800 offers, at an extra cost, a speed camera locations database and it is preloaded with the MY-SPEED XL providing the road speed limit for every road which is displayed along with you vehicles speed on a large screen.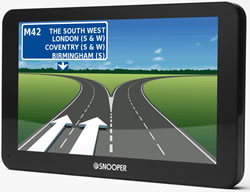 The S6800 is the first Snooper Satnav that is also compatible with Tyre Pilot feature. Sold separately the Tyre Pilot will enable you to monitor your vehicles tyre pressure and temperatures. By ensuring you have the correct tyre pressure you will save fuel and also get optimal driving performance from your vehicle.
The speed camera database available for the Snooper S6800 is an optional extra that is paid for via subscription. You will receive warning to all fixed speed cameras using GPS technology. You will also receive warning to 'known mobile speed cameras' via a GPS database of locations.
The Snooper S6800 comes in four different models. These are for use within different vehicle types and each device can route you along routes specific to your vehicles dimensions when used in a truck or with a caravan, for example. The four models are:
‣ Snooper S6800 Syrius - For use within cars
‣ Snooper S6800 Ventura - For use with with a car and caravan or a motorhome.
‣ Snooper S6800 Truckmate - For use within Trucks and large commercial vehicles.
‣ Snooper S6800 Bus and Coach - For use within buses and coaches
Buy accessories for the Snooper S6800 Pro sat nav range.
---
Last updated: 10th November 2022