Home / Sat Nav Reviews / TomTom Sat Nav Reviews
TomTom GO 930T Review and Comparison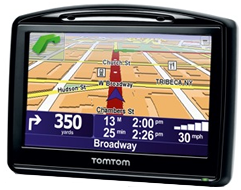 The TomTom GO 930T is a satellite navigation system. This TomTom can be equipped with speed camera locations and also a database of speed limits at each location. Also receive traffic alerts direct to your sat nav to stay ahead of the traffic delays. Read more about the features of the TomTom GO 930T and how it works below and find out which speed cameras it detects.
---
Review: TomTom GO 930T
Detection range: 1,000 metres
Set up: Integrated GPS antenna. LCD screen. Verbal warnings.
SSP: £399.95
---
TomTom GO 930T Features:
‣Know the speed limit
TomTom's speed camera service takes out the guess work and provides speed limit at fixed speed camera locations directly to your TomTom GO 930T.
‣Keep ahead of the traffic
TomTom's Traffic service provides frequent updates from the best local traffic sources.
‣1,000's of Points of interest
1,000's of Points of Interest pre-installed including Café, car park, cinema or petrol station.
‣Explore a new city
The TomTom GO 930T is pre-installed with UK, Europe and North America TeleAtlas maps.
---
TomTom GO 930T - Features Reviewed
The TomTom GO 930T satellite navigator is pre-installed with maps of the UK and Republic of Ireland. The large high-quality 4.3-inch touchscreen and latest version of TomTom's award-winning, user-friendly software enables you to plan your route to fit your requirements, such as: quickest, shortest, avoiding toll roads and congestion charge areas, by required arrival time, etc.
For easier input of your destination the TomTom GO 930T provides speech recognition software enabling you to enter your destination by simply announcing the address, with no need to touch the screen. Speaking the address, to tell your GO 930T where to take you, is much easier than typing. You can also answer while driving, so you can keep your eyes on the road with combination of text-to-speech and speech recognition technology. For example: The TomTom GO 930T asks: "A new text message was received; shall I read it aloud?" and you just reply "Yes" or "No".
Improve your route finding with real-time traffic information updates, jam alerts and road condition warnings relayed wirelessly to your TomTom GO 930T via your Bluetooth mobile phone. The TomTom GO 930T will calculate the effect of traffic and suggest alternative routes.
Hands-free calling, via Bluetooth lets you take a call with just a tap of the screen, or with speech recognition just saying saying "yes". So you can keep your hands on the wheel and eyes on the road. With optimised acoustic design, enhanced noise reduction, echo cancellation technology and the new high performance speaker the TomTom GO 930T gives you the best hands-free calling experience, comparable with Bluetooth hands free car kits.
---
TomTom GO 930T alternative purchases:
Garmin nuvi 770
Garmin nuvi 770 features an easy-to-use colourful 4.3-inch touch screen display and ultra-slim design with full UK postcode search and is preloaded with mapping of UK, Western Europe and North America. The Garmin nuvi 770 can also alert you to UK and Ireland speed camera locations, the data is supplied from Cyclops and is updated weekly.
---
Becker Traffic Assist 7928

Becker Traffic Assist 7928 personal navigation device is pre-loaded with mapping for 37 European countries. The Becker Traffic Assist 7928 provides 4.8-inch TFT high contrast, low reflection colour touch screen, with 2D or 3D moving maps display and includes full 8-digit UK postcode search.
Becker Traffic Assist 7928 Review
---
Last updated: 17th February 2023