Home > Speed Camera Types > Average Speed Cameras > Motorist Comments > Average Speed Camera Comments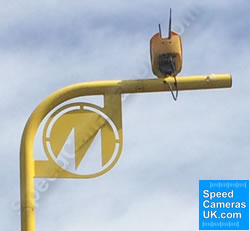 Welcome to the SpeedCamerasUK.com average speed camera comments page. Here you will find comments left by UK motorists with regards to average speed cameras. We have lots of different comment pages relating to other speed camera types e.g. Gatso speed cameras, mobile speed cameras and speed limit comments. If you would like to make a comment about average speed cameras, please complete the online form below.
If you have a question relating to average speed cameras, please see our average speed camera question and answer page, it may have already been asked by another UK driver. Read and learn more about average safety cameras.
When completing the form below, if you provide your name and county, we will publish your name and county within the average speed camera comments section below. We reserve the right to edit your comment.
---
---
Tom from Cambridgeshire writes...
I have only one issue with speed cameras and in particular average speed cameras. When the roads are quiet particularly at night why is the speed limit not raised?
---
Kelvin from UK writes...
Why do the average speed check cameras have a low mph limit on a motorway? Surely it would make more sense to just monitor speeds of 70mph plus on a motorway as that is stated other the UK speed limit then someone should expect a fine. I am trying to find out why more and more are getting put in place on motorways with low mph speeds. Is it to catch people out so they can pay a fine? Where does the money go from people's fines surely it's for profit and not for safety?
---
Anon from UK writes...
Ok... so no one likes to be caught speeding... I didn't 50 years ago ... it cost me £5. There can be no defence for speeding within a correctly signed limit. Even a small speed over the limit has a dramatic consequence for braking distance which varies as the square of the speed.
Going down a hill might increase speed and therefore needs to be checked... just as if one had hit the gas pedal.
If speed limit signs are clearly marked in advance then speed needs to be reduced before entering. On un-smart roads whether one is the only vehicle on the road or its crowded then no allowance can be made for the speed over the limit.
Average speed cameras are often thought of as being fair but otherwise it's instant speeds which are measured - so don't speed at any instant. If your loved one has been killed on the road then you may agree... I would love to pay 10x the speeding fine to get them back.
---
Edward W from UK writes...
Your article regarding a series of SPECS cameras along a carriageway stated that only the installer and the police know whether the average is taken from the first to last camera or between two consecutive cameras. Why should this be kept secret from the motorist. Is the error "headroom" known regarding likely prosecution?
The setup of the cameras seems to take place without any chance for anyone to discuss/object to the length of carriageway that is covered. Take the M54 and M3 for instance - miles and miles of 40 mph restrictions under average speed restriction - most of it with no work being carried out.
SpeedCamerasUK.com comments...
I would suggest you put your questions to your local MP and/or Minister for Transport.
---
Ryan writes...
Hi a bit worried that I may have gone through a average speed camera over the limit stated, I think I went past about three of the average speed cameras before I was aware I was going over the average speed limit, as I think went past three will I get three separate fines and 9 points!?! Big concern of mine as I'm in my first year of driving so I lose my licence.
---
Derek Greenwood from Perthshire writes...
I have two reservations regarding average speed cameras on "normal" roads. Firstly I find myself having to constantly monitor the speedometer (not everyone has cruise control) which takes attention away from monitoring other traffic.
Secondly the system retains my number plate and time passing the camera. This is a bit 1984 surveillance.
---
DISCLAIMER: Comments, views and opinions shared on SpeedCamerasUK.com are of those expressed by individuals and are not held by SpeedCamerasUK.com.
Last updated: 21st September 2021