The Speed Cheetah C550 speed camera detector can be mounted on your dashboard or windscreen as both mounts are included in the box. You will then receive a visual and audible countdown to every speed camera in the UK using GPS technology. The Cheetah has won the Auto Express Awards with a Best Buy Rating and 5 stars in 2016. You can change the alerts you receive when approaching a speed camera location using the simple to use menu.
Please note: the Cheetah C550 does not include a radar or laser detector, all alerts are via the GPS database only.
As you approach a speed camera location you will receive three different alerts:
1. Receive up to four informative spoken voice descriptions when approaching each speed camera location making you aware you are approaching an accident black spot location where there is a speed camera located
2. Overspeed tone if you are driving above the speed limit at the speed camera location
3. A final chime will sound when you pass the speed camera
There is a yellow digital speedo on the Cheetah C550 display that is visible at all times even in bright sunlight. A clock and compass also feature on the easy to read display.
If you are driving over the speed limit at the speed camera location the current speed flashes and as you approach the speed camera location the clock changes to a numeric distance countdown. Furthermore there is an additional distance countdown progress bar to show you the alert site proximity.
There are numerous connections offered by the Cheetah C550 speed camera detector: External GPS antenna, car stereo mute facility, headphone socket, 2 mount options (windscreen or dashboard), hardwire kit compatible.
You can select custom alert distances to select different warning distances for different types of cameras.
Dark mode can be selected whereby the Cheetah will only light up during an alert so it will not dazzle you in normal driving conditions in the dark.
If you want to mute the alert chimes when approaching a particular speed camera there is an alert mute button that will stop the sounds for the current location. Furthermore you can cancel the alert completely if you want to. This may be useful when on familiar roads or at night when you want to turn of the alert and thus turn off the lit up display.
Whisper mode will make the alerts on the Speed Cheetah C550 quiet if you are driving on roads where you know the speed limit.
You can set personal locations too whereby you will be alerted to up to 64 of your own preset locations.
There is an optional silent start up. There is also an optional extra hard wire kit that will provide power to your vehicle using your car's battery.
Cheetah c550 accessories can be viewed and purchased here.
Cheetah c550 display explained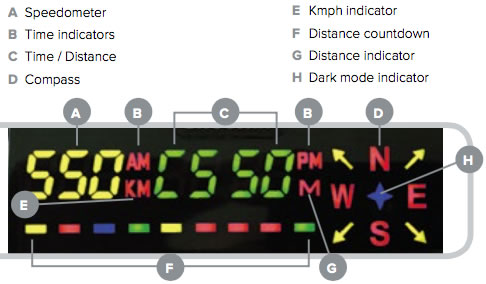 ---
Cheetah C550 Speed Camera Detector Features
‣LED display
‣Warnings when approaching a speed camera
‣Overspeed warning at speed camera locations
‣Adjustable alert choice
‣Choice of 3 brightness settings
‣Requires subscription £19.99 for 3 years or £34.99 for lifetime subscription.
‣MPH or KPH modes
‣Adjustable volume
‣Yellow digital GPS speedometer
‣UK wide safety camera locations
‣Headphone socket
‣Dark mode; LED's light up only at speed camera locations
‣Windows based PC, not Apple MAC compatible
‣Dimensions: Width - 72mm, Height - 40mm, Depth - 26mm
---
Trinity 3.0 speed camera subscription costs
The Cheetah's Trinity 3.0 database includes speed camera locations and red light cameras too. You will need to pay to subscribe to the Cheetah Trinity 3.0 database. You can then update the Cheetah with the latest speed camera locations simply by connected to a PC computer running Windows Vista, XP, 7, 8 or 10. The updates can be downloaded as often as you like and you will receive a database update reminder if you forget to update for 6 weeks.
The subscription price is £19.99 or £34.99 depending on the subscription option chosen.
Option 1: £19.99
‣3 years updates for a single region (USA and Canada, UK and Europe or Australia and New Zealand)
Option 2: £34.99
‣Lifetime unlimited updates for all regions
‣Includes up to 3 family owned Cheetah speed camera detectors
Speed camera subscription which is required for the Cheetah C550 to provide alerts to both fixed and mobile speed camera locations via the Trinity 3.0 speed camera database costs either £19.99 for 3 years GOLD membership or £34.99 for PLATINUM lifetime subscription.
GOLD membership provides 3 years unlimited updates for a single region - choose from: 1. UK and Europe, 2. USA and Canada, or 3. Australia and New Zealand.
PLATINUM membership provides lifetime unlimited updates for all regions: 1. UK and Europe, 2. USA and Canada, or 3. Australia and New Zealand
Please note: GOLD and PLATINUM memberships are payable directly to the manufacturer once your Cheetah c550 has been delivered to you and your serial number known.
Trinity 3.0 database coverage
Region ONE - United Kingdom (UK) and Europe:
UK: England, Northern Ireland, Scotland and Wales. Please note: Republic of Ireland locations are included in both the UK and Europe datasets.
Europe: Andorra, Armenia, Austria, Belgium, Bosnia and Herzegovina, Bulgaria, Croatia, Cyprus, Czech Republic, Denmark, Estonia, Finland, France, Germany, Greece, Hungary, Iceland, Ireland, Israel, Italy, Latvia, Lichtenstein, Lithuania, Malta, Netherlands, Norway, Poland, Portugal, Romania, Russia, Serbia, Slovakia, Slovenia, Spain, Sweden, Switzerland, Turkey, Ukraine.
Region TWO - North America: USA and Canada.
Region THREE - Australasia: Australia and New Zealand.
Speed cameras and other locations in the Speed Cheetah C550 Trinity Database
Custom alert distances and overspeed alerts are individually configurable for each type of alert stored in the Trinity 3.0 database. Alerts to these cameras are set in metres (m) and can be turned off or set to any preset distance warning - the options for which are explained below:
‣Speed cameras: OFF,300m,400m,500m,600m,700m,800m,900m.
‣Stored mobile cameras and mobile zones: OFF,300m,500m,700m,900m,1000m.
‣Average speed cameras and average speed zones: OFF,300m,400m,500m,600m,700m,800m,900m.
‣Average speed exits: OFF,100m,200m,300m,400m,500m, 600m.
‣Safety locations: OFF,300m,400m,500m,600m,700m,800m,900m.
‣School zones**: OFF,100m,200m,300m,400m,500m,600m.
‣Information locations: OFF,300m,400m,500m,600m,700m,800m,900m.
‣Red light cameras: OFF,100m,200m,300m,400m,500m,600m.
‣Non-ticketing cameras: OFF,300m,400m,500m,600m,700m,800m,900m.
‣Cameras in tunnel: OFF,300m,400m,500m,600m,700m,800m,900m.
‣Personal locations: OFF,100m,200m,300m,400m,500m,600m.
‣Opposite direction alerts: OFF,100m,200m,300m,400m,500m,600m.
‣Highway cameras: OFF,500m,600m,700m,800m,900m,1000m.
** School zones is a new feature currently in Beta testing. School zone warnings are not available for all regions.
The video below shows the Speed Cheetah C550 on approach to various speed camera location with spoken voice alerts.
---
Adjustable alert speed limit tolerance
You can increase the overspeed alert activation speed to suit your driving style. For example, if you set a 10% tolerance then you would not receive an overspeed warning in a 30MPH zone until you are doing 33%. The options for tolerances are:
‣0
‣5%
‣10%
‣15%
You will also get variable warning distances depending on the speed of your vehicle. For example, at slower speeds you will receive less distance of warning.
You may also choose to the use Personal Speed Limit function where you can set your own personal speed limit.
---
Cheetah C550 Manual
Looking for more information on the features of the Cheetah C550 or how it installs in your vehicle, etc? View the Cheetah C550 manual by clicking the PDF logo below. The manual opens in PDF format.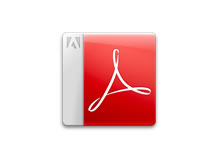 ---
Cheetah C550 Questions and Answers
Question: I might be a bit thick here, but I want to buy a cheetah c550 and watched videos of these in action. None of videos show it approaching a mobile speed camera van or tripod, do they detect these before actually seeing them?
Answer: The Cheetah c550 does not detect mobile speed cameras, instead these locations are within the updateable GPS speed camera database. Named the Trinity database it includes fixed and mobile speed camera locations.
---

Question: Does the c550 work with a heated windscreen?
Answer: It would depend on your vehicle (make/model) and how the windscreen is heated. However, the great and unique thing about the Cheetah c550 is the fact that if your vehicles windscreen does block the GPS signal getting through you an plug in the optional external GPS antenna to remedy the situation. The Cheetah c550 exteranl GPS antenna can be purchased via the Cheetah c550 accessory webpage.
---
Question: Can the Cheetah c550 be hardwired so when you start your car it will come on?
Answer: Yes, you can use the Cheetah c550 2 metre Hardwire Power Cable accessory and connect it to an ignition switched supply.
---
Question: Can you please confirm whether the Cheetah 550 has a rechargeable battery and also let me know if it can be powered from the usb socket?
Answer: The C550 does not contain a battery. It requires 12v power from the car to operate. (It is not intended to be powered via a USB socket in the car). View Cheetah C550 accessories.
---
Cheetah C550 - What's in the box?
Cheetah speed camera detector includes the following products and accessories in the box:
‣Cheetah C550
‣Power cord
‣Windshield mount
‣Magnetic dash mount
‣PC download cable
‣Quick start guide
Further and replacement Cheetah c550 accessories can be viewed and purchased here.
---
Making a purchase from SpeedCamerasUK.com
Once you've found the sat nav, speed camera detector, other electronic device or accessory that you'd like to purchase you can buy online using a debit/credit card or via PayPal. We use SagePay to process our online payments who are PCI DSS Level 1 compliant, so you have total peace of mind with your personal and payment details.
All of our products are sophisticated electronic devices which requires that you read, understand, and act upon the information given in the instruction manual (usually available via the above 'manual' link). You will need internet access and, in accordance with the manufacturers' recommendations, regularly seek out and accept all firmware or software updates offered by the manufacturer. All GPS devices need to 'see' the satellites in the sky. Therefore you will need to know that your vehicle does not have glass that will block or impede the GPS signal. The same advice about vehicle glass applies to radar and laser signals.
---
SpeedCamerasUK.com Online Shop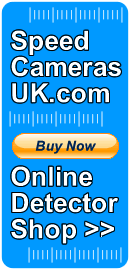 All of the speed cameras detectors at SpeedCamerasUK.com are also available to buy from us and include FREE delivery within the United Kingdom (UK). For deliveries outside of the UK please see delivery information for costs.
We hold extensive stock of each model (unless otherwise indicated) with dispatch same working day for orders placed before 3pm on any working day.
14+ years of online trading
We first started selling speed camera locators right here at SpeedCamerasUK.com in August 2003. We also sell the same products at our sister website ActiveGPS where we also sell an extensive range of GPS products, accessories and mapping software.
With 14 years of trading you can rely on us to only supply the best tried and tested products with unrivalled product knowledge from ourselves and, equally important, excellent support from the relevant manufacturer if it is required.
To view the latest range of speed camera detectors to buy click here.
Last updated: 12th April 2018