Home / Speed Camera Detectors / Snooper Speed Camera Detectors / Speed Camera Detector Reviews
Snooper 3ZERO

Snooper 3ZERO is a leading speed camera detector that provides advanced alerts to speed camera locations across the UK and a growing number of countries across the world. Find out the 3zero's features, how it works and which speed cameras it detects.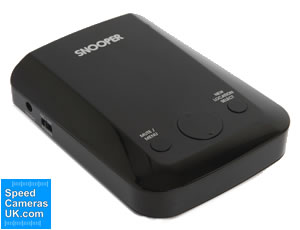 Product summary:
Detection range: 200-1000metres
Technology: GPS, Radar, Laser
Installation: Dash or windscreen mounting
Buy accessories for the Snooper 3Zero.
---
Key features
‣Alerts to fixed and mobile speed traps
‣GPS based camera detector
‣Includes built-in radar and laser detector
‣Auto-ranging - Range set automatically dependent on the speed limit.
‣Spoken voice alerts at all GPS locations
‣Green LED text display
‣Updates via PC
‣Earphone socket for motorcycle use
‣Ultra slim, ultra compact
‣Dimensions: Width - 80mm, Depth - 105mm, Height -25mm
---
Snooper 3ZERO explained
Launched in 2008 the Snooper 3ZERO speed camera detector celebrates Snooper's 30th anniversary. Hence the name 3 0 - 3ZERO!
The 3ZERO features three different technologies that help provide advanced warnings to speed camera locations - these are GPS, Radar and Laser. All three of these technologies in the Snooper 3ZERO speed camera detector are completely legal to use in UK. Please check legality for using in other countires before travelling abroad.
Auto range or user-set pre-alert
A feature unique to the Snooper 3ZERO is the ability to set an auto range or a pre-set distance for the alert range for the GPS alerts. If you choose to set your own alert distance you can set the 3Zero to warn you a set distance before each speed camera location. The choice of distance is set in increments of 50 metres from 100 metres and 1000 metres.
Alternatively, you can choose Auto Range which selects the distance for the alerts prior to each speed camera location dependent on the speed you are driving. So that faster you are driving the sooner you will be alerted to each speed camera. The Auto Range feature sets the following distances for alerts for the following speeds:
| | |
| --- | --- |
| Speed Limit | Pre-Alert Distance |
| 20mph | 250 metres |
| 30mph | 300 metres |
| 40mph | 350 metres |
| 50mph | 700 metres |
| 60mph | 700 metres |
| 70mph | 700 metres |
Mobile speed cameras

The 3ZERO provides alerts to mobile speed camera via two different methods.
1. When subscribed to the AURA camera database (subscription charge applies) you'll automatically receive mobile speed camera locations and accident blackspot locations alongside fixed cameras.
2. The 3ZERO includes a radar and laser detector. When you come into range of a live device using either of these technologies e.g. fixed Gatso's use radar technology, the Snooper 3ZERO will sound an audible alert.
Red Light cameras

Red light camera locations aren't included within the Snooper AURA speed camera database of GPS locations, which the 3ZERO uses. However, thanks to the fact that the 3ZERO includes a radar detector, if the red light enforcement camera is using radar technology the 3ZERO will provides alerts to do these too.
Some red light cameras also double as a speed camera too. Systems manufactured by Gatsometer, the company behind the infamous Gatso speed camera are almost certainly serving a dual purpose. To read more about traffic light (speed) cameras click here.
---
3ZERO alerts
On approach to a speed trap or accident blackspot location found in the GPS database the Snooper 3ZERO provides spoken voice alerts and on screen alerts. The voice alerts confirm the camera type and speed limit, e.g. Gatso, 40MPH. The units screen also confirms this information and provides a countdown from a distance of 1000metres.
When approaching a radar or laser based device the 3ZERO offers an audible tone alert and the screen confirms the type of band/frequency of the device too e.g. K band.
---
Snooper AURA speed camera database

Like all Snooper speed camera detectors and sat navs, the Snooper 3ZERO gets its speed camera locations via the Snooper AURA speed camera database. Updated daily, the AURA database can be downloaded to the device via a PC connected to the Internet with USB connection. It's important you regularly update, as the 3ZERO GPS database is only as good as the last download.
Countries included in the AURA database are: UK and Ireland, Germany, Holland, Belgium, France, Spain, Portugal, Switzerland, Italy, Austria, Luxembourg, Denmark, Norway, Sweden, Finland, Poland, Romania, Russia, USA, Canada, Australia, New Zealand, South Africa.
snooper AURA speed camera database is available via subscription from the manufacturer and priced at £69.99 a year.
---
Detectable Speed Cameras
Utilising GPS, radar and laser detection the 3ZERO will provide advanced warnings to the following fixed and mobile speed cameras:
Fixed cameras:
‣Gatso
‣Truvelo
‣Truvelo D-Cam
‣SPECS
‣HADECS 3 (identified on the 3ZERO as a GATSO camera)
‣SpeedSpike
‣Peek
‣SpeedCurb
‣Watchman
Mobile cameras:
‣Radar based devices including live Gatso and radar based red light cameras
‣Laser based devices
---
Snooper 3ZERO Features:
‣Alerts to fixed and mobile speed traps
‣GPS based camera detector
‣Includes built-in radar and laser detector
‣Spoken voice alerts at all fixed locations (via the GPS database)
‣Green LED text display confirms cameras details
‣Updates via PC
‣Earphone socket for motorcycle use
‣Ultra slim, ultra compact
‣Fully Portable, easy to transfer from vehicle to vehicle
‣1 Year manufacturers guarantee
Snooper 3ZERO Manual
Learn even more about the Snooper 3ZERO by reading the manual. Please click the PDF logo below. The manual opens in PDF format.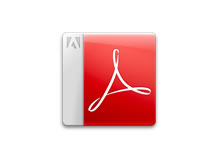 ---
Snooper 3ZERO Questions and Answers
Question: I have a 3Zero, my understanding is that as a laser detector for fixed cameras, van based cameras and police hand held devices is totally useless, other than to say "you just got a ticket" because of the speed at which the laser devices work once it locks onto you. Is this true or will it pick up the signal way ahead of time before it even locks onto you? I use the device anyway, but mostly as a HUD showing my speed, to remind me to keep to the limit. What would be really good is a device that also tracks the posed speed limit and alarms or flashed when I exceed the limit (like many satnavs do) is there a radar/laser detector out there that does that? Thank you, and thanks for the website, great information.
Answer: The Snooper 3ZERO features a radar and laser detector, but also an updateable GPS database of fixed and mobile speed camera locations. Focusing on the detection side... A radar beam can be as wide as a dual carriageway as the signal travels away from the source (camera). The 3ZERO can pick up this 'radar scatter' to alert you. Laser on the other hand is a very small concise beam, which when it hits your vehicle can be as small as 10cms in diameter. When using a laser gun, the Police and Camera Safety Teams will often target your vehicles number plate (a flat area on your vehicle). Laser detection can and does alert motorists to mobile speed cameras and I would always recommend it ALONGSIDE a good GPS database, not on its own. For example, often the Police will take three readings of your speed over a set distance using a laser gun, in this scenario you can correct your speed as necessary between readings.
The speed camera detector we sell with UK and Western Europe road speed limits and speed camera locations via a GPS speed camera database (not radar or laser detection) is the Snooper MY-SPEED XL. Stick to the speed limits and you will never get caught speeding again!
---
Question: I have a 3zero detector and am thinkingof replacing it. The advantage of the 4zero seems to be that it has laser and radar detection in addition to GPS but am I right in thinking that mobile speed traps using laser and radar can only be used at specific accident blackspots in which case will they appear on the GPS database anyway? If there is no real value in having laser/radar detection then there is a wider choice of potentially suitable devices. I'd be grateful for your advice.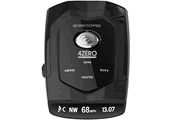 Answer: The Snooper 3ZERO was replaced by the 4ZERO, which has now been replaced by the 4ZERO Elite BT (pictured right).
The Snooper 3ZERO like the new Snooper 4ZERO/Elite has built-in GPS, radar and laser detection. So, you already have radar and laser detection.
Comparison between the Snooper 3ZERO and the 4ZERO can be seen online here.
---
Snooper 3Zero software requirements:
The Snooper 3Zero will only operate on Windows computers. Specifically, you must be using Windows XP, Windows Vista, Windows 2000, Windows 7, Windows 8 / 8.1, Windows 10. Additionally the software will only work with Internet Explorer 8 or Firefox 10 or above.
The Snooper 3Zero will not operate when using Windows 95, 98, 98SE, Millennium or Apple Macintosh operating systems.
---
Subscription:
Subscription to the Snooper AURA speed camera database costs £69.99 per year.
Camera updates:
Updates via Windows based PC.
Please note: the Snooper 3ZERO is not MAC compatible.
---
Snooper 3ZERO - What's in the box?
‣Snooper 3ZERO
‣Carrying Case
‣2 Metre Straight Power Lead
‣Windscreen Mounting Bracket
‣Dashboard Mount
‣USB Cable
‣Snooper 3ZERO Quick Start Guide
‣Snooper 3ZERO CD-Rom with User Guide, Software and Drivers
If you require additional accessories for the Snooper 3ZERO these can be purchased via the Snooper 3ZERO accessory page.
---
Making a purchase from SpeedCamerasUK.com
Once you've found the sat nav, speed camera detector, other electronic device or accessory that you'd like to purchase you can buy online using a debit/credit card or via PayPal. We use SagePay to process our online payments who are PCI DSS Level 1 compliant, so you have total peace of mind with your personal and payment details.
All of our products are sophisticated electronic devices which requires that you read, understand, and act upon the information given in the instruction manual (usually available via the above 'manual' link). You will need internet access and, in accordance with the manufacturers' recommendations, regularly seek out and accept all firmware or software updates offered by the manufacturer. All GPS devices need to 'see' the satellites in the sky. Therefore you will need to know that your vehicle does not have glass that will block or impede the GPS signal. The same advice about vehicle glass applies to radar and laser signals.
---
Last updated: 11th September 2023