Home / Speed Camera Detector Guide / Speed Camera Detector Reviews / RoadPilot Speed Camera Detectors
Micro RoadPilot Review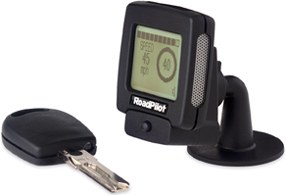 SSP £299.95
‣Warnings to Gatso, Truvelo, SPECS, mobile traps
‣One touch operation
‣Warning range from 3200 metres
‣Very quick and eimple to remove from vehicle
The Micro RoadPilot had to be semi-installed, which could be a pain if transferring car-to-car, although the standard separate antenna is handy if your windscreen blocks GPS signals. It found all the traps, warning of the site and speed by voice alerts, but it was a bit slow at clearing afterwards. Yet the laser sensor didn't play ball, and we think the MicroGo is a better buy unless you need that aerial.
Auto Express March 2004 - 3 Stars
The tiny Micro Road Pilot makes more sense than its bigger brother, which is complex and bulky. The Micro RoadPilot has the smallest screen in the market but uses it well, a single button toggling easily to the required display. The size makes it simple to fit in most cars and it pulls off for security purposes.
Auto Express March 2005 - 4 Stars
Despite being smaller than its big brother, the Micro RoadPilot's display was surprisingly clear, because it showed less information. It was easy to mount - various options are included - but requires more time to install than plug-and-play rivals.
It weeded out all the traps with the display showing the limit, speed and countdown. As with the others, laser performance was poor, but 12 months' free subscription was a bonus.
---
Last updated: 21st September 2021