Novus Speed Camera Detector Range

Novus first launched their speed camera detection range in 2007, since then Novus have had a total of four different detectors these included the Novus Piccolo, Delta, Rider and Alpha.
Over the years that followed Novus camera locators proved a huge success with motorists and motoring journalists alike - repeatedly receiving the best buy award from Auto Express. Especially with their keenly priced and multi-awarding winning Novus GPS Rider model.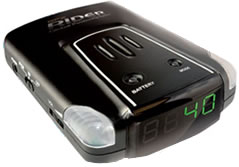 In 2011, Novus was brought out by automotive supplier Daltec Al Ltd. By 2012, Daltec had decided to discontinue the complete Novus speed camera detector range. The Novus brand does still live on, but it is now being used by Daltec as the name for their in-car camera/driver recorder range.
Below we look back at the Novus speed camera detector range with links to the reviews on SpeedCamerasUK.com when the popular range was available to buy.
---
Read the reviews
Over the years when the Novus range was current, here at SpeedCamerasUK.com we wrote several reviews for each of the different Novus devices that warned drivers to UK speed camera locations.
Looking to buy a speed trap locator from the latest range? Click here to compare the models.