Home / Speed Camera Detector Guide / Speed Camera Detector Reviews / Novus Speed Camera Detectors
Novus Alpha Review and Comparison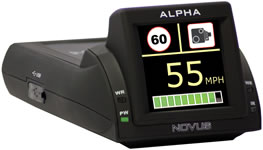 Novus Alpha speed camera detector (now discontinued) provided alerts to speed camera locations across the UK. Find out more about the Alpha's features, how it works and which speed cameras it detects. Plus read reviews, share your own reviews and read comparisons with other best buy speed camera locators.
Review: Novus Alpha V3
Detection range: 500 yards
Set up: Integrated GPS antenna, OLED screen, Verbal warnings.
Cost: £150
---
Key features
‣Warns to fixed and mobile speed cameras - Warns to Gatso, Truvelo, SPECS, Speedmaster, DS2, red light cameras, accident blackspots and all other permanent safety cameras.
‣Know the speed limit - The detector will give an over-speed warning in close proximity to the camera if exceeding the speed limit, but will automatically mute when within the speed limit.
‣No false alerts - The driver is advised of only cameras on the road they are driving along, thereby negating false alerts.
---
Novus Alpha Explained
The Novus Alpha V3 was tbe last Novus speed cmaera detector to be manufactured, and provided up to date information of fixed, Specs, hotspots area for mobile and red light camera and accident blackspots with clear natural voice announcements.
The Novus Alpha utilises a unique vehicle profile mode, which allows the driver to select the category of vehicle they are driving. The unit will then advise the driver of the correct speed limit for their vehicle in a camera risk zone. An IR remote is also included so the user can disable or customise the warning that they will receive.
To read more about the Novus speed camera detector range click here.
---
Alpha alerts
When you are approaching a fixed speed camera or a possible mobile speed camera site, the Novus Alpha V3 warns you approximately 500 yards before the speed camera. Our research has show that this is the preferred distance, giving ample advanced warning, but not too much such that you forget about the location of an approaching speed camera!
When you are 500 yards from the speed camera, a voice inside will say for example:
"Warning! Speed Camera 500 yards ahead, Limit 30 miles per hour."
When you are 200 yards away, the Novus Alpha senses whether you are over speed for the approaching camera. If you are travelling at or below the speed limit, you will not be hassled with constant alerts before passing the camera or other hazard. The Novus Alpha knows exactly how fast you are travelling by the GPS satellite technology and the award winning database knows the speed limit of the road on which you are travelling.
If you are exceeding the speed limit in the last 200 yards before the speed trap, Novus Alpha will say:
"Attention! Reduce Speed."
It keeps repeating this message until you reduce your speed to the speed limit or below.
---
Different vehicle types
Novus Alpha speed camera detector gives warning of fixed and mobile speed camera locations and utilises the unique 'vehicle profile' feature - this enables the user to select between six different vehicle types including car (with or without caravan/trailer), bus, goods vehicles below and above 7.5tonnes providing speed limits specific to vehicle type. Novus Alpha V3 operation is via the supplied 24 key IR (Infra-Red) remote control.
---
Detectable Speed Cameras
Utilising GPS, radar and laser detection the GPS Rider can provide advanced warnings to the following fixed and mobile speed cameras:
Fixed cameras:
‣Gatso
‣Truvelo
‣SPECS average speed
‣SpeedSpike
‣Peek
‣SpeedCurb
‣Watchman
Mobile cameras:
‣Mobile speed camera locations as included within the downloadable speed camera database.
---
Novus Alpha features
‣Warnings of fixed cameras including Gatso, Truvelo, SPECS, Speedmaster and DS2
‣Warnings of red light cameras
‣Warnings of possible mobile sites
‣Warnings of accident black spots
‣Clearly announces the legal speed limit when approaching camera sites
‣Clear voice alerts
‣1.5-inch colour OLED screen
‣Comprehensive UK speed camera database
‣Vehicle profile modes e.g. car mode, HGV mode
‣Operation via 24 key IR remote control
‣Natural voice alerts and colour visual warnings
‣Accurate Speed Reading
‣KMH or MPH modes
‣Safe driving mode
‣Camera only mode
‣Comprehensive UK speed camera database
‣12-24 volt operation
‣Easily transferable between vehicles
‣USB 2.0 compatible
‣FREE Standard Database updates
‣2 Year manufacturers guarantee
---
Novus Alpha alternative purchases
Please note the Novus Alpha is no longer available, however the Pogo Alert Plus and Snooper 3ZERO (compared below) are both available.
The Novus Alpha isn't the only speed camera detector available to buy and use in the UK. Below you can read comparisons with two alternative speed trap locators the Pogo Alert Plus and Snooper 3ZERO. To read the latest speed camera detector reviews click here.
---
Pogo Alert Plus
The stylish and compact Pogo Alert Plus speed camera detector features a slightly larger colour OLED display than the Novus Alpha, which is also touchscreen!
The Pogo Alert Plus also features a laser detector for detection of mobile laser based speed camera vans and other handheld devices.
Both systems have been designed to be plug and play and can also be easily transferred from vehicle to vehicle. Pogo Alert Plus includes 6 month free subscription to the speed camera database, further subscription is priced at £50.00 per year. The Novus Alpha (when sold) included a free lifetime subscription to the Novus speed camera database.
To read the Pogo Alert Plus GPS speed camera detector review click here.
---
Snooper 3ZERO

Like the Novus Alpha the Snooper 3ZERO has been designed to be standalone and is ideally suited to be dashboard mounted. However unlike the Novus Alpha which features a GPS database of speed camera locations the Snooper 3ZERO in addition also includes a built-in radar and laser detection. Providing alerts to mobile speed cameras and warnings to 'live' Gatso speed camera sites.
Speed camera warnings on the Novus Alpha are displayed on a OLED 1.5-inch screen whilst the Snooper 3ZERO features an LED text display.
Novus Alpha (when sold) included a free lifetime subscription to the Novus speed camera database. Snooper 3ZERO subscription is priced at £2.99 a month, £7.99 a quarter or £29.99 a year.
To read the Snooper 3ZERO GPS speed camera locator device click here.
---
Last updated: 21st September 2021