Road Angel Gem and Gem Deluxe Review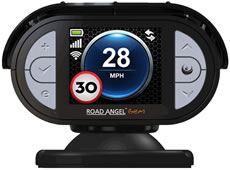 Road Angel Gem is a leading speed camera detector which provides advanced alerts to speed camera locations across the UK. Find out the Gem's features, how it works and which speed cameras it detects. Plus read reviews, share your ownreviews and read comparisons with other best buy speed camera locators.
PLEASE NOTE: The Road Angel Gem/Gem Deluxe have both been superceded by the Road Angel Gem+/Gem+ Deluxe. To view the latest models click here.
---

Review: Road Angel Gem / Gem Deluxe
Detection range: 200-1000metres
Technology: GPS, Laser and GPRS
Installation: Dash or windscreen mounting
SSP: Gem £130, Gem Deluxe £160
Please note the Road Angel Gem / Gem Deluxe have now been discontinued the replacement models from Road Angel are the Gem+ and Gem+ Deluxe.
---
Road Angel Gem Features:
‣Know the speed limit
Includes the road speed limit whether there is a speed camera there or not.
‣GPS and laser speed camera detection
GPS and laser technology included as standard.
‣Automatic Speed Camera Updates
Road Angel Gem and Gem Deluxe features live updates as you drive - no need to connect and update from a computer.
‣Auto-ranging
Range set automatically dependent on the speed limit.
‣Virtual Communtity
Using the unique 'CameraShare' feature, Road Angel Gem users can share the LIVE locations of mobile speed camera vans at the press of a button with other motorists using a Road Angel Gem.
---
Road Angel Gem explained
The Road Angel Gem is the very latest speed camera detector to be released for sale in the UK. Being the newest device you'd expect it to have the latest features and technological developments and it certainly does.
Road Angel Gem comes with LIVE updates, this means no need to connect to a computer to download the latest speed camera database. Instead using GPRS/GSM (mobile phone) technology the Road Angel Gem automatically updates as you drive! These updates deliver new speed camera locations, changes to speed limits. Plus with the 'CameraShare' button you and other motorists also using a Road Angel Gem can add live as seen by the roadside mobile speed camera vans and alike in a matter of seconds. Which just isn't possible with GPS detectors that require a computer to update!
Road Angel Gem also comes complete with a built in laser detector, useful when you come across mobile laser based safety camera partnerships and their vans!
Another very useful feature of the Road Angel Gem is it's database of road speed limits. These cover all roads in the UK, whether a speed camera is present or not. So at anytime on any road, Road Angel Gem will display the speed limit for the road you are driving on! This feature is further enchanced thanks to the Road Angel Gem's LIVE updates and it's 'SpeedShare' button, where if you come across a road where the speed limit has changed simply advise of the new speed limit.
---
Gem alerts
When approaching a fixed speed cameras location e.g. Gatso the Road Angel Gems screen displays a speed camera warning symbol and your vehicles current speed.
While on approach and detection of a laser based speed trap, the Road Angel Gem's screen displays a laser symbol and sounds an intermittent audible tone alert.
---
Road Angel speed camera database
The Gem and Gem Deluxe detectors are both connected via GPRS technology to the live Road Angel database of speed camera locations. The main benefit being that Gem owners have access to up-to-the-minute speed traps without the need to update with the use of a computer. Both units also feature a camera share button, which allows motorists using either device to share the locations of live mobile speed cameras. These locations stay live on the database for up to six hours.
---
Detectable Speed Cameras
Utilising GPS and laser detection the Gem and Gem Deluxe will provide advanced warnings to the following fixed and mobile speed cameras:
Fixed cameras:
‣Gatso
‣Truvelo
‣Truvelo D-Cam
‣SPECS
‣HADECS 3 (they will alert on the Gem+ as a "Fixed Camera, Speed Limit Variable")
‣SpeedSpike
‣Peek
‣SpeedCurb
‣Watchman
Mobile cameras:
‣Laser based devices
---
Road Angel Gem Features:
Clear OLED full-colour screen
‣Integrated SIM for GPRS automatic speed camera updates
‣Live camera alerts through 'CameraShare'
‣In-built Laser gun detection
‣UK wide safety camera locations
‣Road speed limits - updatable via 'SpeedShare'
‣2.5 hour battery life, for cable free operation
‣Simple dash mount - plug and go installation (windscreen mount optional for Gem, but is included with Gem Deluxe)
‣Safety camera subscription - 6 months: £39.99, 1 year: £65.99 or 3 years: £159.99
‣1 Year manufacturers guarantee
Road Angel Gem Manual
Looking for more information on the features of the Road Angel Gem+ or how it installs in your vehicle, etc? View the Gem manual by clicking the PDF logo below. The manual opens in PDF format.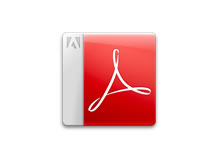 ---
Road Angel Gem Comparisons
Please note the Road Angel Gem / Gem Deluxe have both been replaced by the Gem+ models, the two detectors below - the Pogo Alert+ (has been discontinued) and Snooper 3ZERO is still available.
The Road Angel Gem isn't the only speed camera detector available to buy and use in the UK. Below you can read comparisons with two alternative speed trap detectors the Pogo Alert Plus v4 and Snooper 3ZERO. To read even more information about either of these two devices simply click the links below or read reviews for all the speed camera detectors reviewed on SpeedCamerasUK.com here.
---
Pogo Alert Plus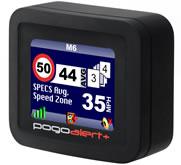 Pogo Alert Plus speed camera detector is roughly half the size of the Road Angel Gem and unlike the Road Angel Gem the Pogo Alert Plus features a touch screen very much like the Apple iPhone 4 and iPod Touch.
Road Angel Gem's party piece is the fact that the device can update itself with new speed camera locations as you drive (no need to connect to a computer), thanks to the in-built GPRS "mobile phone" technology. Whereas to update the Pogo Alert Plus you need to connect to either a PC or MAC computer.
Both the Pogo Alert+ and Road Angel Gem also features a Laser detector as standard. Pogo Alert Plus Laser detector can be simply uplugged when using outside the UK, i.e. in Ireland. Road Angel Gem Laser detector is built-in, though the speed camera database just covers the UK, so there is no need to remove it.
Speed camera updates for the Pogo Alert Plus are free for 6-months and then priced at £50 per year thereafter. Whilst for the Road Angel Gem (which offers a live camera database feed) they are 6 months: £39.99, 1 year: £65.99 or 3 years for £159.99.
To read the Pogo Alert Plus GPS and laser camera detector review click here.
---
Snooper 3ZERO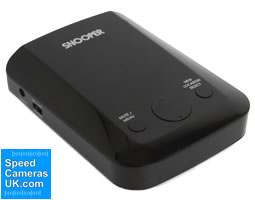 Snooper 3ZERO like the Road Angel Gem utilises a GPS database and Laser detector to warn of fixed and mobile Laser based speed cameras. The Snooper 3ZERO in addition also includes a built-in Radar detector as standard. Providing alerts to Radar mobile speed cameras and warnings to 'live' Gatso speed camera sites.
Speed camera warnings on the Road Angel Gem are displayed on a OLED colour screen whilst the Snooper 3ZERO features an LED text display.
Speed camera updates on the Snooper 3ZERO are via a PC with Internet connection. Road Angel Gem speed camera updates automatically via GPRS "mobile phone" technology every few minutes as you drive, so you always have the latest speed camera and road speed limit information.
Road Angel Gem subscription is priced at 6 months for £39.99, 1 year for £65.99 or 3 years for £159.99. Snooper 3ZERO subscription is priced at £2.99 a month, £7.99 a quarter or £29.99 a year.
Read the Snooper 3ZERO GPS/Radar/Laser speed camera detector review here.
---
SpeedCamerasUK.com Online Shop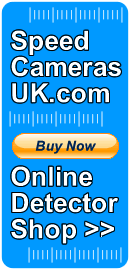 All of the speed cameras detectors at SpeedCamerasUK.com are also available to buy from us and include FREE delivery within the United Kingdom (UK). For deliveries outside of the UK please see delivery information for costs.
We hold extensive stock of each model (unless otherwise indicated) with dispatch same working day for orders placed before 3pm on any working day.
15 years of online trading
We first started selling speed camera locators right here at SpeedCamerasUK.com in August 2003. With 15 years of trading you can rely on us to only supply the best tried and tested products with unrivalled product knowledge from ourselves and, equally important, excellent support from the relevant manufacturer if it is required.
To view the latest range of speed camera detectors to buy click here.
Last updated: 16th January 2020